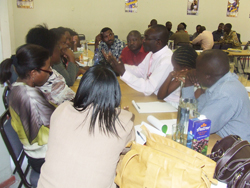 The NPA has extensive experience in conducting training and workshops. Over the years we have conducted numerous sessions for different groups throughout Namibia, treating issues as diverse as land reform, gender laws, anti - corruption and HIV/AIDS and the law. Our audiences have ranged from traditional leaders, to people living with HIV, organizations in the private and public sectors to children. Such sessions delve into what these laws mean in practical terms and what people can do if they feel that their rights have been violated.
Workplace programs
The NPA conducts training in educational facilities and in workplaces throughout the country. We are very proud of our workplace programmes, - we work with both management and staff to understand legislation, develop workplace policies and to create practical workplace programmes.  This is our main income-generating activity and helps sustain our Justice Outreach work.
This training is conducted by highly experienced, qualified paralegals, with extensive knowledge of the law and of how to carry out such sessions to maximum effect.
An informed place of work is one which flourishes. Not only do such programs lead to a better informed and empowered workforce, but studies suggest that workplaces which promote human rights awareness enjoy increased worker productivity, and enjoy a reduction of employee turnover, absenteeism and employee theft.
The NPA can offer workplace programs based on any aspect of Namibian law and its application. However, some of our more popular programmes are:
Human rights in the workplace – creating and developing a human rights policy. A very popular programme abroad, many organizations are realising the benefits of implementing such a programme
Workers rights and obligations
HIV & AIDS and the law
Child laws – Including the child maintenance act, child protection laws, the social grant etc
Gender issues and laws – including the rape act, domestic violence act, married person's equality act, domestic violence issues etc.
Succession laws
The rights of people with disabilities
The Namibian constitution in real terms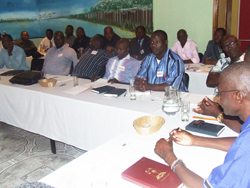 We can also tailor sessions to suit any specific needs.
At the NPA we believe that people have a right to information. Because of this, we strive to keep our prices competitive, ensuring that work places do not have to spend too much in order to train their staff.
To find out more about what the NPA can offer your place of work, and our very competitive rates, please contact our National Coordinator by clicking here or by calling +264 (0) 812511652
We look forward to hearing from you and to working together.